Donald Hall and Charles Lindbergh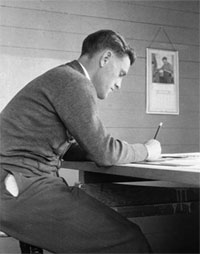 Donald A. Hall, Sr. working on the Spirit of St. Louis design.
In sixty days in 1927, Donald Hall and Charles Lindbergh designed the Spirit of St. Louis and planned a flight to Paris. Donald A. Hall worked an average of 90 hours per week, with few breaks. Once he worked for 36 hours straight and at another point over 20 hours. In 60-days they made history...
In February, 1927 Ryan Airlines Corporation of San Diego, California offered to build Charles Lindbergh a plane for $6,000 excluding the engine. Ryan, led by company president Frank Mahoney, would need three months to manufacturer Lindbergh's "Spirit of St. Louis." Upon arriving at the Ryan headquarters to meet with Mahoney and chief engineer and designer Donald Hall, Lindbergh was unimpressed with what he saw. Ryan Airlines was housed in a broken down building that used to be a fish cannery. A discouraging stench filled the air. After meeting with Mahoney and Hall, however, Lindbergh's spirits were much improved. The men voiced full confidence in Lindbergh's choice of a single-engine plane and Lindbergh was won over by their apparent skill and dedication, even after he informed them that the plane would have to be completed in two months, not three. From that moment on, Donald Hall practically lived at Ryan Airlines. His commitment was matched by that of his staff, as voluntary overtime became the norm. These men sensed they were becoming part of something historic.
"...Pencil lines curve and angel delicately over the face of his drafting board's white sheet. A fuselage is taking outline form. He's been sitting on that stool since early morning, with no break except for quick meals and a few trips down stairs to talk to Bowlus and the workmen. It was the same yesterday, and the day before."
-Charles A. Lindbergh, The Spirit of St. Louis 1953
Designed with one thought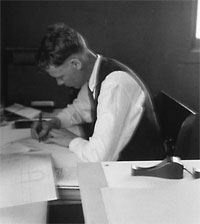 Charles Lindbergh planning his NY to Paris flight.

"The Spirit of St. Louis" was designed with one thought in mind: to get to Paris. Extra fuels tanks were added and the wing span increased to accommodate the additional weight. The plane would have a maximum range of 4,000 miles, more than enough to reach Paris. One of the more innovative design decisions involved placing the main fuel tank in front of, rather than behind, the pilot's seat. Lindbergh didn't want to be caught between the tank and the engine if the plane was forced to land. This configuration also meant that Lindbergh would not be able to see directly ahead as he flew. It didn't seem to trouble him much. "There's not much need to see ahead in normal flight," Lindbergh told Donald Hall. "I won't be following any airways. When I'm near a flying field, I can watch the sky ahead by making shallow banks. All I need is a window on each side to see through..." If needed, Lindbergh would use a periscope attached to the plane's left side to see what was in front of him. In his efforts to pare down the plane's weight, Lindbergh considered every detail. Any item considered too heavy or unnecessary was left behind. These included a radio, parachute, gas gauges, and navigation lights. Lindbergh designed for himself special lightweight boots for the flight, and went so far as to cut his maps down to include only those reference points he would need. Every ounce mattered. Instead of a heavy leather pilot's seat, Lindbergh would be perched in a far lighter wicker chair.

Completion on April 28, 1927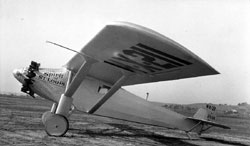 Spirit of St. Louis-April 1927

Upon its completion on April 28, 1927, the "Spirit of St. Louis" weighed in at 2,150 lbs. when empty. It stood 9 feet, 8 inches high, was 27 feet, 8 inches long, and had a 46-foot wingspan. The plane was powered by a 220-horsepower, air-cooled, 9-cylinder Wright J-5C "Whirlwind" engine that was estimated to be able to perform flawlessly for over 9,000 hours. The engine was outfitted with a special mechanism designed to keep it greased during the entire transatlantic flight.

May 1927

Two days before Lindbergh's scheduled May 10, 1927 departure from San Diego, news broke that Frenchmen Charles Nungesser and Francois Coli had taken off from Paris bound for New York. It appeared as if all of Lindbergh's and Ryan Airlines' efforts had been in vain. However, despite a radio report claiming that Nungesser and Coli had been spotted over the Atlantic, the two were never seen again. Lindbergh's chance for glory was still within reach. "Lucky Lindy" and his "Spirit of St. Louis" landed at Curtiss Field on Long Island, New York, on May 12, 1927. En route, pilot and plane had already broken the existing record for the fastest transcontinental flight. Eight days later, Lindbergh and his silver plane were poised to set new records as they took off from Roosevelt Field. Fighting fog, icing, and sleep deprivation, Lindbergh landed safely at Le Bourget Field in Paris at 10:22pm on May 20, 1927. "The Spirit of St. Louis" had carried him over 3,600 miles in 33.5 hours. A new aviation hero was born, and the "Spirit of St. Louis" attained legendary status.

NOTE: All photographs are protected by federal copyright law. Copies of the photographs may be downloaded and saved for personal use only. Reproduction of any photographs or images within the Donald A. Hall Photograph Collection for other than personal use requires written permission from Orbital Air, Inc. For a limited time, additional copies of any photographs may be obtained at the cost of $2.00 per copy by contacting Orbital Air, Inc. at orbitalairinc@yahoo.com. Commercial inquiries are being taken at 602-971-2188.