Technical preparation of the Spirit of St. Louis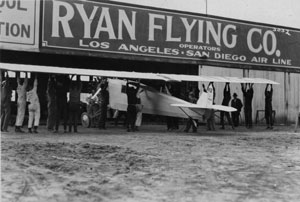 Technical preparation of the Airplane "Spirit of St. Louis" Written for the National Avisory Committee for Aeronautice" By Donald A. Hall, Chief Engineer, Ryan Airlines, Inc. July 1927
Given here is a brief history of the design and construction of the—Spirit of St. Louis, the airplane that Charles Lindbergh flew solo across the Atlantic. Although the plan was to modify a standard model Ryan M-2, it was quickly determined that modification was less practical than redesign. Colonel Lindbergh's active participation in the design of the aircraft is noted. Given here are the general dimensions, specifications, weight characteristics, and man hours required to build the aircraft.
View individual pages or download PDF of the technical preparation of the airplane—Spirit of St. Louis:
Click on the thumbnail images below to see the full-size image of individual pages or download all pages in a PDF file format. Adobe Acrobat Reader must be installed.

0001
76403 bytes
1020 x 1218

0002
114881 bytes
1020 x 1218

0003
115286 bytes
1020 x 1215

0004
118119 bytes
1020 x 1215

0005
113656 bytes
1020 x 1209

0006
87305 bytes
1020 x 1209

0007
113013 bytes
1020 x 1218

0008
78208 bytes
1020 x 1215

0009
77094 bytes
1020 x 1218

0010
74433 bytes
1020 x 1218
Source: National Advisory Committee for Aeronautics