Charles Lindbergh received the first Distinguished Flying Cross ever awarded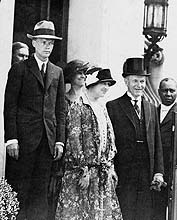 When Col. Charles Lindbergh was in town to receive the Distinguished Flying Cross from President Coolidge, the president and first lady entertained the Lindbergh family at Patterson House, where they were living while the White House was being renovated.

On June 11, 1927, Charles Lindbergh received the first Distinguished Flying Cross ever awarded. Since 1927, aviators honored with this medal have included World War II pilots President George Bush and Senator George McGovern and astronaut Virgil "Gus" Grissom for flying one hundred missions during the Korean War.

Lindbergh's nonstop solo flight across the Atlantic on May 20-21, 1927 made aeronautical history. The stunt-flyer-turned-airmail-pilot's flight was underwritten by a group of St. Louis businessmen. Flying his monoplane, Spirit of St. Louis, Lindbergh captured the $25,000 prize offered for the first flight between New York and Paris.

"Lucky Lindy's" arrival in Paris after thirty-three-and-one-half hours in the air was celebrated on both sides of the Atlantic.

Feted at a June 1927 reception in Washington, D.C., he was praised by the president of the United States:
On a morning just three weeks ago yesterday, this wholesome, earnest, fearless, courageous product of America rose into the air from Long Island in a monoplane christened "The Spirit of St. Louis" in honor of his home and that of his supporters. It was no haphazard adventure. After months of most careful preparation, supported by a valiant character, driven by an unconquerable will and inspired by the imagination and the spirit of his Viking ancestors, this reserve officer set wing across the dangerous stretches of the North Atlantic. He was alone. His destination was Paris. —Calvin Coolidge
View Calvin Coolidge Address:
Coolidge went on to commend Lindbergh's "absence of self-acclaim, [his] refusal to become commercialized, which has marked the conduct of this sincere and genuine exemplar of fine and noble virtues."
Lindbergh and the Spirit of St. Louis visited eighty-two cities
From Washington, Lindbergh traveled to New York City where he was honored with a ticker tape parade. Over the next several months Lindbergh and the Spirit of St. Louis visited eighty-two cities in forty-eight States. In 147 speeches and 192 messages dropped from the air he promoted the still nascent aeronautical industry. The panoramic photograph below shows Lindbergh at the July 16, 1927 "Lindbergh Day" celebration in Springfield, Vermont.
Following his record breaking flight, Lindbergh worked as a consultant to commercial airline companies. He served both the U.S. Department of Defense and the National Advisory Committee for Aeronautics. His Pulitzer Prize winning book, The Spirit of St. Louis (1953), describes his historic flight. Charles Lindbergh died on August 26, 1974. Today, Lindbergh's plane is displayed at the National Air and Space Museum.
*Reprinted from The Library of Congress.