Lindbergh landed in Helena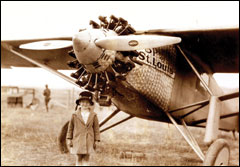 One of the Jorud children stands before the Spirit of St. Louis in Helena in 1927. The photo was taken by Les Jorud, who was a close friend to Helena mayor Christopher Bausch, one of the city's early aviation buffs.
By MARTIN J. KIDSTON - IR Feature Writer - 12/16/03
Shirley Clearman isn't old enough to remember the day Charles Lindbergh flew into Helena in 1927.
But at 71 years old she does remember her grandfather Christopher Bausch, a two-term Helena mayor who stood witness to the city's opening chapters of aviation.

Clearman's is a story of family pride, thanks in part to her grandfather Bausch who arrived in Helena in 1880 and became the city's mayor 50 years later. In his days, Clearman said, Bausch met such aviators as Cromwell Dixon, Charles Lindbergh and Amelia Earhart during their historic Helena stopovers.

"Whenever they came to town with the planes and stuff, he would get a call and go down," Clearman said. "He thought it was fantastic."

Clearman is proud of the contents of her big black photo album. Among its treasures is a snapshot of a young girl poised before the Spirit of St. Louis. The picture, Clearman said, was taken by Bausch's good friend and photographer Leslie Jorud, who opened a studio on Last Chance Gulch in the 1930s (the business would remain open for 73 years before closing in 2002).
"My dad used to go with Jorud when he did the picture taking," Clearman said. "The planes were such a new thing back then."

Lindbergh touched down at the site of today's Bill Roberts Golf Course in 1927 to display his famous silver airplane. Just two months earlier the pilot had flown that single engine aircraft out of Roosevelt Field in New York before landing 33 hours later at Le Bourget Field near Paris.

Clearman said her grandfather was moved by Lindbergh's achievement. While he never learned to fly himself, the former mayor did get off the ground a time or two.

"When one of the airplanes came to town he got to go for free rides because he was the mayor," Clearman said. "That was a big deal back then."

Clearman flew once too, courtesy of Bausch and the day's visiting pilots. While she'll never forget the experience, it's not something she's likely to repeat.

"I can remember going on a plane when I was a kid," Clearman said stretching out her arms. "It was scary and besides that, I got airsick. I wasn't very old."

Aggie Hunter wasn't very old either when her parents took her and her seven siblings down to see Lindbergh and his airplane that day in Helena.

"Mother and Dad took all eight of us to the fairgrounds to meet Lindbergh," Hunter said. "He came in a big car and Gov. Erickson was riding with him."

Hunter said her brothers Bill and Dan were the first in line to greet Lindbergh. The pilot gave a short presentation before shaking hands with some members of his audience.

"He only shook hands with the boys," Hunter recalled. "He never shook hands with the little girls. That was the way it was back then. A girl was a dainty little thing."

The impact Lindbergh's arrival had on Hunter and her brothers was undeniable. Bill became a pilot himself, taking instructions from Red Morrison and Bill Fahrner in Helena. As for Hunter, she's still talking about it 66 years later.

"It was really quite someting," she said.

Reporter Martin Kidston can be reached at 447-4086, or by e-mail at mkidston@helenair.com
Reprinted with permission from the Helena Independent Record.