Shortly after takeoff from Runway 23, whilst climbing and manoeuvring gently to begin its display sequence, the aircraft's right wing suffered a major structural failure and the aircraft fell steeply into an industrial compound bordering the airfield. There was no post impact fire. The pilot survived the impact, but died shortly afterwards from his injuries. The failure in fatigue of a combined right landing gear and wing strut support fitting was determined to have precipitated the wing failure.
The terror of the Coventry air crash-02 June 2003-BBC

<< View video footage of the crash Real Player Clip (air-show.ram) >>
<< Post your questions and thoughts about the crash in the Spirit of St. Louis Discussion Center >>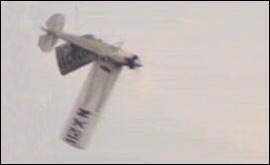 The stricken Spirit of St Louis plunges out of the sky after the wing breaks
By Victoria Minett, BBC Coventry and Warwickshire website producer
It was a sweltering day at the start of summer but it was not difficult to feel the chill of horror as spectators realised what had just happened.
Thousands of people who had enjoyed a day of spectacle and thrills at the Coventry Classic Airshow fell silent as word spread that the replica of the Spirit of St Louis had crashed out of the sky.
I was watching the show from just outside the airport and joined the stunned throng wondering what had gone wrong and praying that no one had been hurt.
Drama unfolds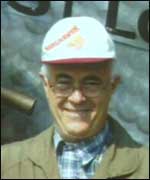 Pierre Hollander, who built the plane himself

The drama unfolded very suddenly, shortly before 5pm, after more than an hour of exciting displays, which included Canberras, a Spitfire, a Gloucester Meteor, Percival Prentice and a Twin Pioneer.

As one display took place over the airfield, the Spirit of St Louis took to the sky in preparation for her demonstration, with experienced pilot Pierre Hollander at the controls.

The climb seemed fine but as the plane reached the outskirts of the airfield, something went horribly wrong.

The craft seemed to wobble slightly, before a wing folded back on itself and the crippled craft dropped out of the sky, crashing sickeningly into the top of a warehouse building on the perimeter of the field.

Disbelief and shock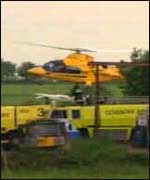 The air ambulance races to the scene

Many had missed the crash as they watched what was happening directly over the airfield, but one shout of "it's crashed, it's gone down" had hundreds flocking in disbelief to perimeter fencing, craning to see what had happened.

Emergency services were on the scene within seconds and the airport's yellow helicopter ambulance was scrambled almost immediately.

Although Mr Hollander was whisked to hospital incredibly quickly, he was very badly injured and, sadly, later died.

Around 16,000 people visited the airport over the two-day airshow, but almost as many gathered around the airfield, including on Rowley's Road and by the warehouse

As I made my way round the airport to the scene of the ground impact, I walked into a sea of ashen faces as many struggled to cope with the tragedy they had just witnessed within feet of them.

Many were too shocked to speak but some managed to squeeze words out. One local woman told me she had seen the wing of the aircraft fold and the plane just span out of control and landed in the building.

She said it was a horrific sight - and one which a male companion was struggling to come to terms with as he sat in his car.

Proud aviation heritage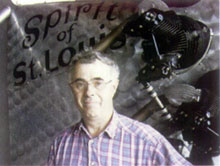 Pierre Hollander

"With a city with such a proud aviation heritage it would be a great disservice to its people if they were denied the opportunity to see these magnificent craft."

It took Coventry a long time to recover from the tragedy of 1988, when a Gloucester Meteor crashed due to pilot error and after that, it was 11 years before another air show returned to Baginton.

According to organisers of the classic airshow, there were no plans to repeat the event in 2004 in any case, but it may continue in the future, depending on expansion plans at the airport.

And it would be a good thing if an airshow did come back to Coventry - and as soon as possible.

With a city with such a proud aviation heritage - it was, after all, the birthplace of the jet engine - it would be a great disservice to its people if they were denied the opportunity to see these magnificent craft from the past in all their glory.

To see video footage of the crash, click on the link to the Midlands Today report on the left.

Inquiry into air show death-Sunday, 1 June, 2003-BBC


The plane's wing appeared to break up

Air investigators have begun sifting through the wreckage of a plane that crashed at an air show killing its pilot. The Air Accidents Investigations Branch (AAIB) is trying to discover what caused the replica aircraft to come down at the Coventry Classic Airshow, shortly after it took off on Saturday.

The pilot, 59-year-old Pierre Hollander, of Balsta, Sweden, was taken by air ambulance to Selly Oak Hospital, Birmingham, but later died from his injuries.

The plane, a replica of Charles A Lindbergh's Spirit of St Louis, which was built by Mr Hollander, plunged 100 feet to the ground after its right wing appeared to break up.

Off-duty cameraman

David Eales, of Air Atlantique, which organised the classic aircraft show at Baginton airfield, in Warwickshire, said: "The AAIB is here and has been interviewing people and going over the wreckage.

"It is going to be taken away to ascertain what happened."

Investigators are expected to study footage of the crash, which was captured on video by an off-duty BBC cameraman.

Mr Eales said other people may also have captured the incident on video or camera and he urged them to help the investigation by handing over the footage.

The plane was a replica of Charles A Lindbergh's Spirit of St Louis Mr Hollander, a well-known figure on the European air show circuit, was piloting the Spirit of St Louis as part of the two-day event.

The plane was built to commemorate the aircraft in which Lindbergh made the first non-stop flight across from New York to Paris in 1927.

One person was killed at the Coventry Classic Airshow in 1988 when a Gloster Meteor T7 - a 1940s twin jet aircraft - crashed due to pilot error.

Organisers said all aircraft at the show conformed to both European and Civil Aviation Authority standards, while all pilots had to be approved and have their competence assessed.

They added that crowd safety was also paramount, with members of the public being kept well away from the planes during displays. No one was hurt during the crash.

Representatives from Air Atlantique have informed Mr Hollander's family of the tragedy and are preparing to meet them once they have arrived in the UK.

Wing crack 'caused air show crash' Jun 19 2003-BBC


By Emma Snodgrass

Investigators looking into last month's crash at Coventry Air Show believe the tragedy may have happened because of a major structural failure one of the wings.

Thousands of spectators were at the first day of the Midlands' biggest classic air show at Coventry Airport on May 31 when the Ryan single-engine aircraft - a replica of the Spirit of St Louis - crashed into an industrial unit on the airport site short-ly after taking off.

The plane's pilot and owner Pierre Hollander, 59, of Balsta, Sweden - who had more than 21,000 hours of flying experience - survived the crash but died later in hospital.

Witnesses said a wing folded and crashed into the roof of a CFS Aero Parts warehouse near the airport at Baginton.

An initial report into the crash published today by the Air Accidents Investigation Branch has revealed one of the struts supporting the right wing had metal fatigue and cracked mid-air, causing the wing to fold up.

The special bulletin states: "Shortly after take-off from Runway 23 at Coventry Airport, whilst climbing and manoeuvring gently to begin its display sequence, the aircraft's right wing suffered a major structural failure and the aircraft fell steeply into an industrial compound bordering the airfield.

"The pilot survived the impact, but died shortly afterwards from his injuries.

"Detailed investigation into the underlying cause of the fatigue failure is ongoing, and a full report into this accident will be published as an AAIB Bulletin in due course."

The Spirit of St Louis was a replica of the plane in which Charles Lindbergh made the first solo transatlantic crossing in 1927.

Source of information: http://www.bbc.co.uk