Raymond Orteig-$25,000 prize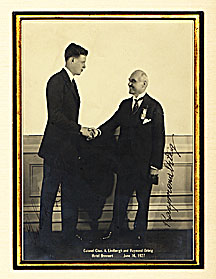 Charles Lindbergh receiving the Orteig Prize from Raymond Orteig
Raymond Orteig emigrated to New York from France in 1912. He worked as a bus boy and café manager and eventually acquired two New York Hotels which were popular with French airmen assigned to duty in the United States during the Great War
In 1919 Raymond Orteig offered a prize of $25,000 for the first nonstop aircraft flight between New York and Paris. By the mid 1920's, airplanes had finally developed enough to make such a flight possible. The first aviators to go for the prize paid with their lives. Others were still willing to take the chance and Roosevelt Field became their headquarters. Several famous aviators arrived at the field and the public followed their plans with intense interest. Then in May, 1927, a new plane quietly flew in from the west. An unknown, young, airmail pilot, Charles Lindbergh, had arrived.
At 7.52 AM, May 20th, 1927 a small single-engine aircraft took off from Roosevelt Field, Long Island. 33 ½ hours later, on May 21st, the same aircraft landed at Le Bourget Airport, Paris. At the controls of the Ryan monoplace named Spirit of St Louis, a 25-year-old mail pilot, Captain Charles Lindbergh. On August 31st, 1927 the Fédération Aéronautique Internationale (FAI) ratified Lindbergh's performance as the new World Record for non-stop flight.
Certification of Charles Lindbergh's flight required several documents to prove the performance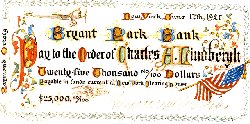 Orteig Prize check made out to Charles Lindbergh
The Fédération Aéronautique Internationale (FAI) - the World Air Sports Federation - is the sole organisation authorized to certify aeronautical and astronautical world records worlwide.
The certification of Charles Lindbergh's flight required several documents to prove the performance. A sealed barograph, an instrument working with atmospheric pressure, was loaded on the aircraft; its six-hour cylinder recorded the altitudes flown and proved that the flight was uninterrupted. The start of the flight was attested by the US National Aeronautic Association and the Procès-verbal established by the Aéro-Club de France on Lindbergh's arrival attested that the barograph was found sealed and reported that 322 litres of gas (85 gallons) remained in the sealed tanks. This Procès-verbal was signed by no less than 13 French officials, the US Ambassador Myron Herrick, the Belgian Air Attaché Willy Coppens and, of course Charles Lindbergh himself. Finally, the FAI General Secretary Paul Tissandier informed the National Aeronautic Association on August 31st, 1927, that Lindbergh's flight was certified as the Class-C World Record for non-stop flight over a distance of 5809 kilometres".
Pictures of the barograph, six-hour cylinder recorded, and certified world record documents
Click to Enlarge
Source of information: The Fédération Aéronautique Internationale (FAI)