The Spirit's Designer: Donald A. Hall, Sr.
(1898-1968)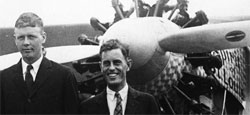 Charles Lindbergh and Donald Hall (right)
In sixty days in 1927, Donald Hall and Charles Lindbergh designed the Spirit of St. Louis and planned a flight to Paris. Donald A. Hall worked an average of 90 hours per week, with few breaks. Once he worked for 36 hours strait and at another point over 20 hours. In 60-days they made history...
The CharlesLindbergh.com Web site has partnered with Orbital Air, Inc. to offer the following online resources dedicated to the memory of Donald A. Hall, Sr. and to document the history of his work with Charles Lindbergh.
NOTE: All photographs are protected by federal copyright law. Copies of the photographs may be downloaded and saved for personal use only. Reproduction of any photographs or images within the Donald A. Hall Photograph Collection for other than personal use requires written permission from Orbital Air, Inc. For a limited time, additional copies of any photographs may be obtained at the cost of $2.00 per copy by contacting Orbital Air, Inc. at orbitalairinc@yahoo.com. Commercial inquiries are being taken at 602-971-2188.